PJS Medal of Merit 
The Philippines-Japan Society Medal of Merit is the highest award within the Society's gift to confer upon Filipino and Japanese nationals who have significantly contributed to nation-building in terms of the promotion of friendship, mutual benefit, mutual respect and closer, deeper, stronger relations between the two countries.
The Medal is made of gold-plated metal fashioned in the shape of a sun with eight rays measuring 5.5 cm in diameter with a thickness of 4 mm. A ruby stone is embedded in the middle of the medal. The Citation, on the other hand, is chemically etched on a 12 x 12-inch steel plate electroplated to a shiny copper finish, mounted on a wooden frame with narra finish.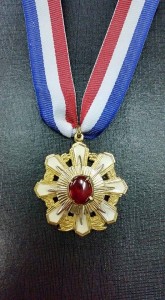 The Society conferred its first Medal of Merit in 1979 and every year thereafter, the Medal has been given alternately to a Filipino or Japanese individual.
As of 2014, there have been 37 awardees – 19 Filipinos and 18 Japanese.  Eighteen awardees are prominent business leaders and pioneers, 11 high government officials, 6 diplomats and 2 civil society organizations.  Four Japanese Prime Ministers have received the Philippines-Japan Society Medal of Merit, while 6 high ranking Filipino political leaders have been awarded.  All share a distinct personal contribution to the promotion of Philippines-Japan relations over the last 36 years.
The Roster of Awardees as of August 2017 is as follows:
MEDAL OF MERIT
AWARDEES